All Classes are Currently Full
CLICK HERE to join the WAIT LIST for full classes
Class Schedule (2022-2023)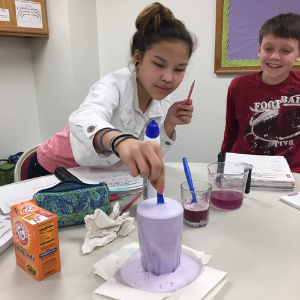 Apologia Chemistry & Physics
Teacher:
Amy Miller
Class Periods:
Grades 3-4  (1st Period)
Grades 5-6  (2nd Period)
(Grades 3-6)
Fees:
$165 Tuition
Required Materials:
• Exploring Creation with Chemistry & Physics, Jeannie Fulbright
• Exploring Creation with Chemistry & Physics Notebooking Journal (or Jr version for 3-4)
• Colored pencils, scissors
• Glue stick
Description:
Discover the foundational elements of the universe and the building blocks of creation with Exploring Creation with Chemistry and Physics! Study how the universe functions through this exploration of matter and energy; lessons cover atoms and molecules, pH levels, types of mixtures, mechanics, laws of motion, dynamics of motion, energy, waves, light, machines, magnets, and more.
---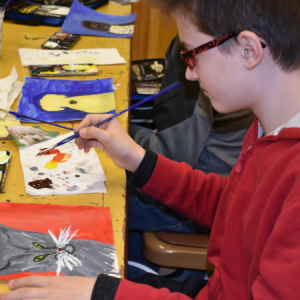 Art Foundations
Teacher:
Jamie Salerno
Class Periods:
Grades 5-8  (3rd Period)
(Grades 5-8)
Fees:
$165 Tuition
Required Materials:
Information pending
Description:
During this class, students will learn to express their ideas as they learn about painting and drawing composition, color theory, proportion, planes, volume, tone/shading, continuous line, gesture, negative and positive space, and basic perspective. Students will also learn about different artists, art history, art movements and style (e.g., Georgia O'Keeffe, Andy Warhol, abstraction, aboriginal art).
Additionally, students are encouraged to think about an artist or technique they would like to learn about so that it can be incorporated into the class. They will learn about what elements are important in the work, and then they will try it themselves. Students will experiment with a mix of materials such as graphite, oil crayons, pastels, charcoal, acrylics, tempera, watercolor, ink on canvas board, mylar or canvas paper.
---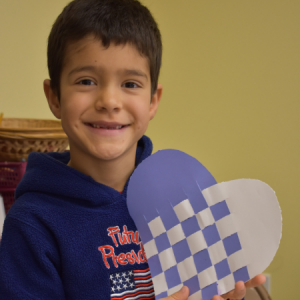 Primary Art
Teacher:
Jamie Salerno
Class Periods:
K-2 (4th Period)
3-4 (5th Period)
(Grades K-2, 3-4)
Fees:
$165 Tuition
Required Materials:
Information Pending
Description:
Primary Class 1 (Grades K-2)
In Primary Class 1, your child will be introduced to basic art techniques such as lines, color and shapes, which are the building blocks of art and provide a solid foundation to young artists. Students will focus on American and European artists while learning how to use and apply a wide variety of art materials. This class places an emphasis on having fun while learning!
Primary Class 2 (Grades 3-4)
In Primary Class 2, students will build upon the skills they acquired in the Primary Class 1 while continuing to develop new skills and techniques that will focus on expanded art elements like value, texture, space and form. Students will also learn how to use these elements in their own art work while exploring art from different cultures, history and environmental influences.
---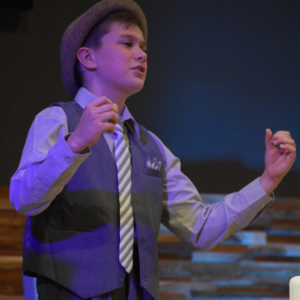 Introduction to Drama
Teacher:
Shawnetta McCombs
Class Periods:
6-8 (2nd Period)
(Grades 6-8)
Fees:
$165 Tuition
Required Materials:
Information Pending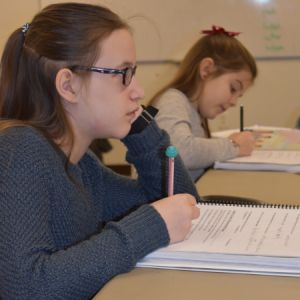 IEW US History-Based Writing
Teacher:
Rebekah Kunz
Class Periods:
5-8 (1st Period) **Note Class Starts at 9:00AM
(Grades 5-8)
Fees:
$230 Tuition
Required Materials:
See below
Description:
This class will improve the student's writing strength and depth with U.S. History content. This course uses a very structured approach to writing formal pieces. Incrementally, most of the IEW models of structure and elements of style will be taught. Parents take an active role each week listening to students retell from an outline, editing each first draft, and monitoring that assignments are completed. Weekly vocabulary will be assigned to enrich the students' writing and is practiced in class with all sorts of fun games. A variety of types of writing and tools to improve writing will be assigned for practice in journals as well. Students may have an opportunity for public speaking in a presentation for parents once or twice during the school year. This is a solid curriculum which is certain to increase your child's writing confidence and understanding of history. I recommend every student take 2-3 years of IEW to strengthen their writing skills. Homework might take about 40-60 min, 3-4 days/week.
Required Materials:
IEW (Institute for Excellence in Writing) U.S. History-Based Writing Lessons by Lori Verstegen ISBN: 978-1-62341-324-8 Edition/Printing: Second Edition, November 2019 (https://iew.com/shop/products/us-history-based-writing-lessons-student-book-only)
One "Portable Walls" for Structure and Style Students (available from HCA for $5)
Folder or binder with loose leaf paper
Any readable, quality thesaurus for home use
Sewn composition book for journal writing (no spiral notebooks)
Pens
Pencils (mechanical preferred)
1 Highlighter, any color
Student Resource Notebook for home use (instructions for a free download are in your textbook, or a hard copy can be purchased online)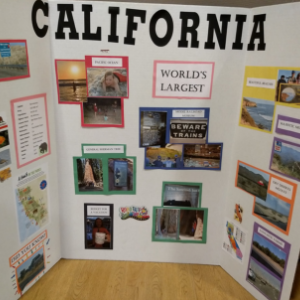 Mapping the US by Heart
Teacher:
Rebekah Kunz
Class Periods:
5-8 (3rd Period)
(Grades 5-8)
Fees:
$185 Tuition
Required Materials:
See Below
Description:
I'm very fond of this course, and I think you'll like it too! We'll learn some fun facts about each state and use a lot of drawing to help us really understand and remember their locations. I love to travel and play games, which will come out quite a bit in this course. I'm looking forward to starting our Thursdays together this year with fun and learning! Students will increase their knowledge of the geography of the United States as they learn to draw the states from memory. Students will learn to use maps and atlases, and understand latitude and longitude. They will be able to identify states, their abbreviations, state capitals, large cities, and some important land features and bodies of water. The culminating projects will be researching and creating a display about one state in the fall, and producing a map of the US from memory that shows as much of their understanding as possible in the spring. I will primarily be using curriculum from Mapping the World by Heart by David Smith and Draw the USA by Kristin J. Draeger. The methodology will include direct instruction, note-taking, drawing, and games each week. Weekly homework and practice will be required, up to 90 minutes/week. Drawing the states and knowing about them will provide a lifelong advantage to students as they bring this background knowledge and context when they encounter history, news, and even fiction about places in the USA. It would be a valuable complement to the IEW course offered this year.
Required Materials:
1" or larger three ring binder with pocket dividers and tabbed dividers and lined paper; we use a LOT of papers, so this should be only for this class
a zipped pouch or container for the following individual items:
Mechanical pencils (any width, lots of them as they tend to disappear)
4 or more razor-point pens*in black and at least 2 other colors for labeling (red, blue and green) * 0.3mm or 0.4mm like Staedtler triplus fineliner or Stabilo point 88
An excellent eraser – Art Gum or similar, that leaves no residue
A set of colored pencils (and sharpener)
White-out – quick drying kind
2 or more fine-point dry-erase markers in different colors
A dry-erase pocket
One U.S. Atlas per family – National Geographic Kids United States Atlas 6th Edition (Sept., 2020) – about $11 on Amazon is a great one, but an older or similar edition is acceptable
You will receive a pdf file of the papers to print and 3-hole punch for this class.
Music
Teacher:
Shawnetta McCombs
Class Periods:
K-2 (5th Period)
3-4 (3rd Period)
5-8 (4th Period)
(Grades K-8)
Fees:
$165 Tuition
Required Materials:
• 1/2 inch 3-ring binder with dividers
• Sharpened pencil
• Recorder (Only required for grades 3-4)
Description:
Students in kindergarten, first and second grade will learn the basics of music theory through activities centered around famous musical works and children's literature. Basic rhythm and melody will be explored through interactive games and activities. The class will also explore music around the world including culture, instruments, dances, children's games and songs. Students will apply what they learn through song and perform as a choir for the closing program each semester.
During the fall semester, students in third and fourth grade will explore the instrument families of the orchestra and listen to musical selections featuring the families.  Students will also learn music theory, including note reading and rhythm, through fun interactive games, hands-on activities, and singing.  In the spring semester, students will apply what they have learned and play the recorder.  Students will also sing and perform for the closing program each semester.
Students in fifth through eighth grade will explore rhythm through a variety of activites such as body percussion, bucket drumming, and other hands-on experiences.  Students will also learn about the musical time periods, the lives of famous composers, and listen to a variety of pieces including opera, ballet, and other genres.  Singing will also be a part of the curriculum.  Students will perform for the closing program each semester.
---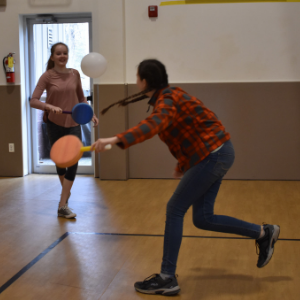 PE
Teacher:
Reggie McKenna
Class Periods:
K-2 (3rd Period)
3-5 (4th Period)
5-8 (5th Period)
(Grades K-8)
Fees:
$150 Tuition
Required Materials:
None
Description:
Our goal is to provide a friendly introduction to sports and fitness while building coordination and self esteem using a hands-on approach that integrates the physical and mental aspects of each lesson: children have a chance to see, touch and experience each sport. We gear our program for their maximum enjoyment, while learning team skills, cooperation and sportsmanship. Every child is a part of our "team", no matter what their level of skill. We guide students through all phases of physical development: eye/hand coordination, large and fine motor skills, muscle development, body balance and cardio-respiratory enhancement.
It is important that your children dress appropriately for physical activity. Tennis shoes or sneakers are a must. Children should wear comfortable clothing with freedom of movement. Dresses or skirts are not recommended.
---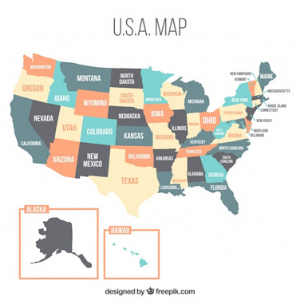 Trail Guide to US Geography
Teacher:
Rebekah Kunz
Class Periods:
3-4 (2nd Period)
(Grades 3-4)
Fees:
$185 Tuition
Required Materials:
See Below
Description:
In this course, students are introduced to the states, their capitals, and a few fun facts about each state. Students will learn to use an atlas and do much of the research themselves. In each region, they'll study one state a little more thoroughly and create a fun project about it. We'll emphasize the memorization of state shapes, locations and their capitals with repetition and fun games. Throughout the year, students will create a personal geography binder of the 50 states documenting our "journey" through 2 states each week as they develop research and map skills in the process. I would expect to spend about 60 minutes a week on the homework. Advanced 2nd graders might be ready for this course, students need to be able to read city and state names for doing their research.
Required Materials:
1" or larger three ring binder with pocket dividers and tabbed dividers and lined paper; we use a LOT of papers, so this should be only for this class
a zipped pouch or container for the following individual items:
Mechanical pencils (any width, lots of them as they tend to disappear)
4 or more razor-point pens*in black and at least 2 other colors for labeling (red, blue and green) * 0.3mm or 0.4mm like Staedtler triplus fineliner or Stabilo point 88
An excellent eraser – Art Gum or similar, that leaves no residue
A set of colored pencils (and sharpener)
White-out – quick drying kind
2 or more fine-point dry-erase markers in different colors
A dry-erase pocket
One U.S. Atlas per family – National Geographic Kids United States Atlas 6th Edition (Sept., 2020) – about $11 on Amazon is a great one, but an older or similar edition is acceptable
---